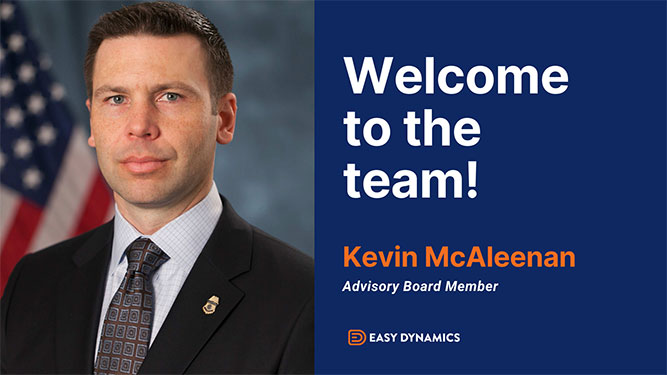 MCLEAN, VA, August 10, 2020 — Easy Dynamics Corporation today announced the appointment of Mr. Kevin K. McAleenan, former Acting Secretary of Homeland Security and Commissioner of U.S. Customs and Border Protection, to the company's newly established Advisory Board, effective immediately. Mr. McAleenan joins Easy Dynamics to advise the company on its law-enforcement and national security practice.
"We are honored to have Kevin McAleenan join our company's Advisory Board," said CEO Poupak Afshar. "Kevin's impressive law enforcement background will be invaluable as we accelerate our expansion and continue to evolve our solutions to enhance the cyber hygiene of our national security missions. We are confident that with Kevin's deep understanding of our government's national security priorities, we will be well-positioned to drive mission-focused outcomes for our clients."
"Easy Dynamics brings a high-caliber executive and IT team with a strong record of support for the national security and law enforcement missions of the federal government," said Mr. McAleenan. "I am pleased to support their practice and look forward to engaging."
---
About Easy Dynamics Corporation
Easy Dynamics Corporation is a leading technology services provider with a core focus in Cybersecurity, Cloud Computing, and Information Sharing. We are builders, problem solvers, and trusted advisors who bring well-architected solutions and management consulting to our clients to align them with the best practices their missions demand. As industry leaders, we are committed to delivering unparalleled quality and service in all aspects of our organization and providing our customers with outstanding technical excellence and the business acumen to advise them on both tactical and strategic initiatives.