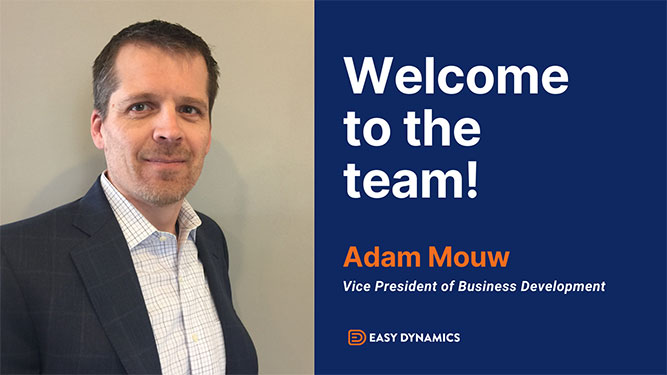 MCLEAN, VA, July 30, 2020 — Easy Dynamics Corporation is pleased to announce the newest addition to its executive leadership team. Adam Mouw has been appointed to Vice President of Business Development and Capture and will be responsible for the growth and strategic planning, including industry partnerships.
"Adam has a deep understanding of what companies need to thrive in a competitive federal and commercial contracting marketplace," said CEO Poupak Afshar. "His wealth of experience in the industry makes him a valuable asset to the company as we continue to expand."
Mr. Mouw joins Easy Dynamics with over 15 years of experience in business growth. He brings to Easy Dynamics critical skills in process development and implementation as well as experience in sales and delivery to the Federal Government. Prior to joining Easy Dynamics, he worked in various leadership positions at GTSI, Dell Federal, and Northrop Grumman.
Mr. Mouw holds a BA in Biology and Environmental Science from the University of Virginia, MS in Evolutionary Biology, and an MBA from the College of William and Mary. He will be based in McLean, Virginia.
---
About Easy Dynamics Corporation
Easy Dynamics Corporation is a leading technology services provider with a core focus in Cybersecurity, Cloud Computing, and Information Sharing. We are builders, problem solvers, and trusted advisors who bring well-architected solutions and management consulting to our clients to align them with the best practices their missions demand. As industry leaders, we are committed to delivering unparalleled quality and service in all aspects of our organization and providing our customers with outstanding technical excellence and the business acumen to advise them on both tactical and strategic initiatives.