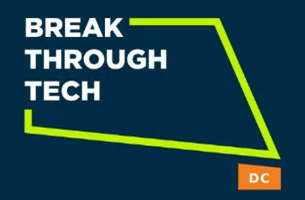 MCLEAN, VA, (January 31, 2023) – Earlier in January, Easy Dynamics Corporation (Easy Dynamics) hosted a group of female students from the University of Maryland for Break Through Tech DC's Sprintership program. Under the Sprinternship program, five "Sprinterns" (short-term interns) joined Easy Dynamics for a paid, three-week mini-internship program. "Sprinterns" engaged in dynamic, hands-on training opportunities, completed a real-world project for a client, and benefited from personalized career coaching sessions taught and supervised by the company's subject matter experts and leadership.
Break Through Tech's Sprinternship program is designed to help undergraduate women from diverse racial and socioeconomic backgrounds break into careers in tech. Break Through Tech, is an organization dedicated to accelerating gender equality in the technology industry. The partnership emerged from Easy Dynamics' long-standing commitment to building a diverse talent pipeline and inspiring more women to enter the tech industry. "Easy Dynamics is committed to diversity and inclusion within our company and the tech industry. Being a host company is just one small step forward in accomplishing that goal." says Poupak Afshar, CEO of Easy Dynamics. As a hosting organization, Easy Dynamics mentors the "Sprinterns" in understanding project management, the tech and cybersecurity industry, teamwork, and working within a small company. Kyle Laker, a Software Developer for Easy Dynamics who mentors the "Sprinterns" stated, "Having the ability to mentor our 'Sprinterns' is a fantastic opportunity. It is so fun to watch their growth over the three weeks and all they learn. Being able to see what they get to take away and apply to their careers is so rewarding."
When asked about their experience the "Sprinterns" felt that their skills within tech got much stronger, the experience reaffirmed their career goals, it made them eager to learn more, and secured future career plans. The "Sprinterns" shared,
"I loved working for a small company, that prioritizes its community and actual connections between everyone. This experience was unique because of Easy Dynamics, I felt my contributions mattered and everyone set the bar high for future jobs. I was able to receive great and useful advice and learned how much cross communications occur between department to deliver for a client. Kyle and Zach were incredible mentors."

2023 "Sprinterns"
Easy Dynamics looks forward to continuing their partnership with Break Through Tech DC and hosting more "Sprinterns" in January 2024.
About Break Through Tech
Launched at Cornell Tech, with support from Pivotal Ventures, Cognizant U.S. Foundation, and Verizon, Break Through Tech provides curriculum innovation, career access, and community building for women in tech. The program originated in 2016 as a program called Women in Technology & Entrepreneurship New York (WiTNY), created at Cornell Tech in partnership with the City University of New York (CUNY) and a broad set of industry partners. Now Break Through Tech is replicating the highly effective ecosystem model originated in New York City to increase women's representation in computing graduates across the United States. To date, the program is in New York City, Chicago, and the DC Metro Area.
About Easy Dynamics Corporation
Easy Dynamics Corporation is a leading technology services provider with a core focus in Cybersecurity, Cloud Computing, and Information Sharing. We are builders, problem solvers, and trusted advisors who bring well-architected solutions and management consulting to our clients to align them with the best practices their missions demand. As industry leaders, we are committed to delivering unparalleled quality and service in all aspects of our organization and providing our customers with outstanding technical excellence and the business acumen to advise them on both tactical and strategic initiatives.