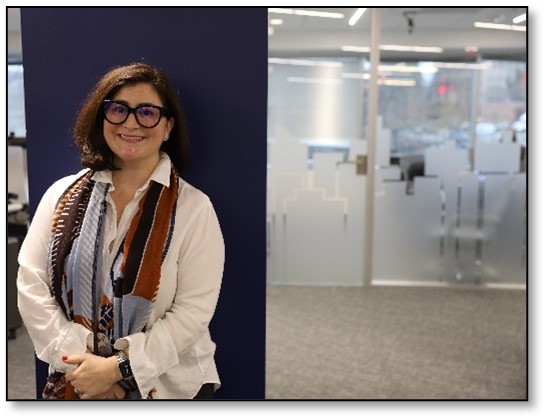 MCLEAN, VA, (January 16, 2023) – Easy Dynamics Corporation (Easy Dynamics) announced the expansion of its executive leadership team with the appointment of Abigail Whiffen Arney as Chief People Officer (CPO). Abigail is an accomplished human resources professional with over 15 years of experience.
Whiffen Arney stated, "I am looking forward to helping the organization mature and grow talent programs to support the business strategy." She also explained, "The energy of the leadership team and the opportunity to build and grow talent programs" is what enticed her to join the company. "We are thrilled to welcome Abigail to our leadership team," said Poupak Afshar, CEO (Chief Executive Officer) of Easy Dynamics. "Her years of experience and perspective will help us continue to grow and thrive as a company. She brings with her a holistic approach to our unique set of needs and the culture at Easy Dynamics. Her expertise in talent acquisition will support the needs of our clients and our team at Easy Dynamics. We are now focused on tackling the challenges ahead, together."
Prior to joining Team Easy Dynamics, Abigail was the Associate Vice President (VP) of Human Resources (HR) at Cognizant and VP of HR at Leidos. She also has experience as the Principal Project Manager of HR at Cambridge Assessment, worked multiple roles at Unisys all around the globe, and has many additional HR and law professional experiences.
Abigail holds a Bachelor of Arts in Political Science and French from Hollins University. She also holds a Juris Doctor from Penn State Dickinson Law.
About Easy Dynamics Corporation
Easy Dynamics Corporation is a leading technology services provider with a core focus in Cybersecurity, Cloud Computing, and Information Sharing. We are builders, problem solvers, and trusted advisors who bring well-architected solutions and management consulting to our clients to align them with the best practices their missions demand. As industry leaders, we are committed to delivering unparalleled quality and service in all aspects of our organization and providing our customers with outstanding technical excellence and the business acumen to advise them on both tactical and strategic initiatives.