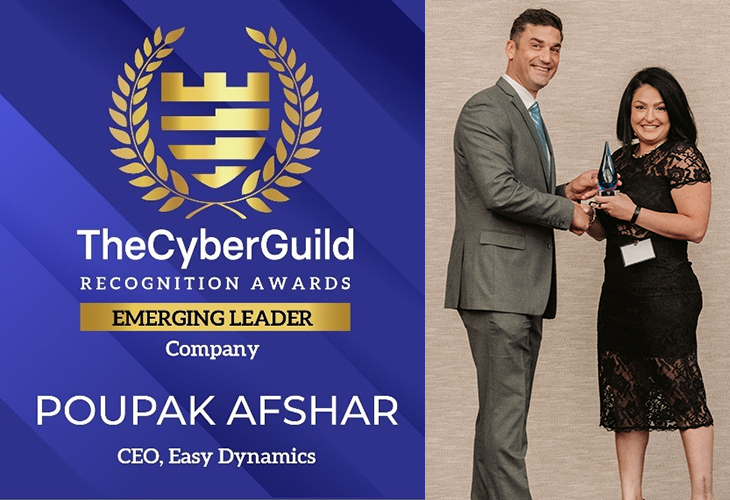 MCLEAN, VA, October 20, 2022 – The Cyber Guild has recognized Easy Dynamics as the 2022 Cyber Guild Emerging Leader – Company award recipient. Poupak Afshar, CEO of Easy Dynamics, accepted the award on Tuesday, September 27, 2022, at the Cyber Guild's Annual Celebration and Recognition Awards at the Ritz Carolton in Tysons Corner. The award was presented by 2021 Emerging Leader – Company award winner, David Maskeroni, CEO of Aquia US.
The award for Emerging Leader – Company is for an organization role modeling the advancement of cybersecurity, and diversity, in the broadest sense; investing and delivering new technologies, ways of working and dynamic partnership to help safeguard organizations impacted by cyber-attacks and to grow a sustainable cyber workforce.  
During her acceptance speech, Afshar stated, "To be recognized as an emerging leader is a huge honor. I believe what differentiates us from others is the power of the team. At Easy Dynamics you don't see many egos, instead what you'll find is people who care about the missions we serve and are always ready to roll up their sleeves and do what it takes to get the job done the right way. It doesn't matter the roles we play; everyone works together towards the same mission of designing, building, and securing the systems that protect our people, places, and way of life… I would like to also thank our clients and partners. Thank you for trusting us to help serve your mission needs. What gets me really excited about this award… we are just getting started. Thank you again for this award. This is a very special moment for us." 
The Cyber Guild is the trade association representing the national capital region's cyber security sector. The Cyber Guild has a strong commitment to promoting cybersecurity sector diversity and inclusion.  
About Easy Dynamics Corporation
Easy Dynamics Corporation is a leading technology services provider with a core focus in Cybersecurity, Cloud Computing, and Information Sharing. We are builders, problem solvers, and trusted advisors who bring well-architected solutions and management consulting to our clients to align them with the best practices their missions demand. As industry leaders, we are committed to delivering unparalleled quality and service in all aspects of our organization and providing our customers with outstanding technical excellence and the business acumen to advise them on both tactical and strategic initiatives.