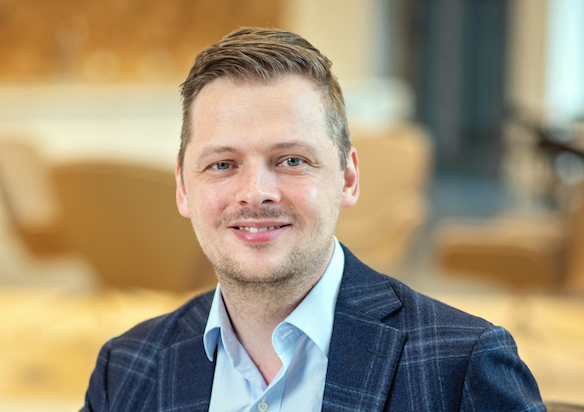 MCLEAN, VA, (June 1, 2023) – Easy Dynamics Corporation is pleased to announce the promotion of JJ Harkema from Director of Digital Identity to Vice President of Solutions and Partnerships. In this new role, JJ will join the esteemed Business Development team, reporting directly to Mark Schmitt, the company's Chief Growth Officer.
JJ has been an invaluable asset to Easy Dynamics since joining the company in 2019. With an exceptional track record in spearheading digital identity initiatives. He has played a pivotal role in positioning Easy Dynamics as a trusted leader in the industry. His unparalleled expertise, dedication, and strong leadership skills consistently demonstrate his commitment to delivering outstanding results. "Having joined Easy Dynamics in 2019, I was immediately impressed with this small business's technical depth, NIST-aligned expertise, and sheer delivery power. After spending four years leading several delivery teams, I am now thrilled to focus on the continued growth of our company. With our dedicated focus on Cybersecurity, ICAM, and Cloud, we continue to be at the forefront of the Federal government's most pressing challenges." says JJ regarding his promotion.
As Vice President of Solutions and Partnerships, JJ will oversee solution offerings and strengthen collaborations with key partners. His visionary thinking and his deep understanding of the industry will undoubtedly play a pivotal role in driving the company's expansion and enhancing its market position. Mark Schmitt, Chief Growth Officer states, "JJ has consistently exhibited exceptional dedication, innovation, and a remarkable ability to forge meaningful relationships with our clients and partners. His commitment to delivering cutting-edge solutions and driving strategic partnerships has significantly contributed to our company's growth and success."
JJ brings many years of experience to his new role, having previously served as Director of Digital Identity at Easy Dynamics. His accomplishments include successfully delivering complex projects, driving customer-centric innovation, and establishing strong relationships with clients and partners. Easy Dynamics is confident that the promotion of JJ to Vice President of Solutions and Partnerships will reinforce the company's commitment to excellence, innovation, and customer success.
About Easy Dynamics Corporation
Easy Dynamics Corporation is a leading technology services provider with a core focus in Cybersecurity, Cloud Computing, and Information Sharing. We are builders, problem solvers, and trusted advisors who bring well-architected solutions and management consulting to our clients to align them with the best practices their missions demand. As industry leaders, we are committed to delivering unparalleled quality and service in all aspects of our organization and providing our customers with outstanding technical excellence and the business acumen to advise them on both tactical and strategic initiatives.