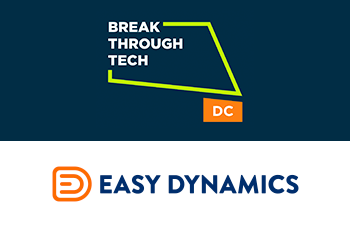 McLean, VA, January 4, 2022 – Easy Dynamics Corporation is proud to be one of the first participating corporate partners in Break Through Tech DC's Sprinternship™ program. Easy Dynamics and Break Through Tech join forces in a shared effort to accelerate gender equality in the technology industry by propelling more women into technology careers through corporate guidance and mentorship.
Under the Sprinternship™ program, five "Sprinterns" (short-term interns) from the University of Maryland will be joining Easy Dynamics for a paid, three-week mini-internship program. "Sprinterns" will engage in dynamic, hands-on training opportunities, complete a real-world project, and benefit from personalized career coaching sessions taught and supervised by the company's subject matter experts and leadership.
"It's been a personal mission of mine to propel more young women of diverse backgrounds into the tech industry," said CEO of Easy Dynamics, Poupak Afshar. "Our industry is growing, but women remain an underrepresented group in the technology workforce. Easy Dynamics is committed to building a diverse talent pipeline and inspiring more women to enter the industry. We look forward to providing our Sprinterns with a memorable experience that will set them up for a successful path in tech."
"We are thrilled for our students who will have the opportunity to work with Easy Dynamics this January during the launch of our Sprinternship program in DC," said Donna White, Break Through Tech DC Director. "Getting that real-world tech industry experience is a huge first step for our students. It's time to build a more inclusive tech ecosystem, and we believe that the Sprinternship program has the potential to do just that."
Follow Easy Dynamics on LinkedIn and Twitter for weekly updates about the program.
---
About Easy Dynamics Corporation
Easy Dynamics Corporation is a leading technology services provider with a core focus in Cybersecurity, Cloud Computing, and Information Sharing. We are builders, problem solvers, and trusted advisors who bring well-architected solutions and management consulting to our clients to align them with the best practices their missions demand. As industry leaders, we are committed to delivering unparalleled quality and service in all aspects of our organization and providing our customers with outstanding technical excellence and the business acumen to advise them on both tactical and strategic initiatives.
---
About Break Through Tech
Launched at Cornell Tech, with support from Pivotal Ventures, Cognizant U.S. Foundation, and Verizon, Break Through Tech provides curriculum innovation, career access, and community building for women in tech. The program originated in 2016 as a program called Women in Technology & Entrepreneurship New York (WiTNY), created at Cornell Tech in partnership with the City University of New York (CUNY) and a broad set of industry partners. Now Break Through Tech is replicating the highly effective ecosystem model originated in New York City to increase women's representation in computing graduates across the United States. To date, the program is in New York City, Chicago and the D.C. Metro Area.