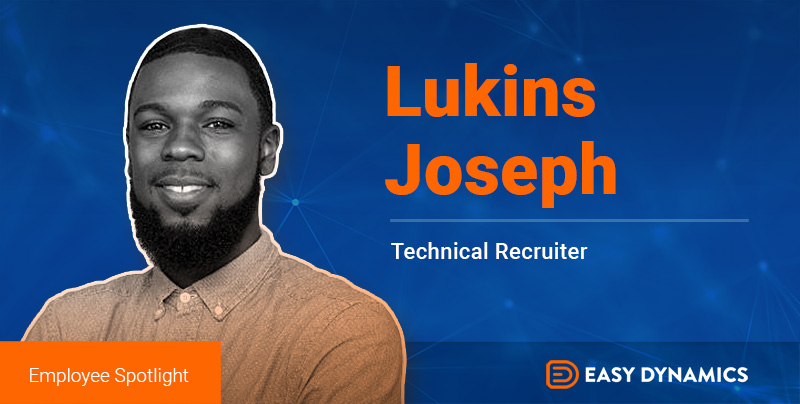 Tell us a little bit about your path to recruiting. How and why did you get into technical recruiting?
I have always been interested in technology, mostly on the hardware side of things but constantly learning and researching new topics has been a hobby of mine. I've also worked in many sales positions throughout my professional career but wasn't quite satisfied until a close friend of mine recommended I give recruiting a shot and it turned out to be an excellent fit. I started out as an agency recruiter, and I am now an internal recruiter here at Easy Dynamics.
What do you enjoy most about your job?
Having the opportunity to talk to people across the country. I'm able to learn many things from candidates all from just listening to their experiences. I've recruited for positions that I didn't know much about but was able to learn from just senior candidates in the pipeline. I've also learned about many things that are not tech related like finances, real estate, stock market, crypto and more.
What is your advice for landing a job in the tech field? What are the skills and competencies you are looking for when recruiting candidates?
There are many skillsets that are valuable in today's market. Of course, anything cloud/blockchain/security/DevOps related could have quite the pay off.
Being a problem-solver is important. Often people want answers to be given to them but understanding what steps are needed to find your own solutions is priceless.
I'd recommend applying to roles that are relevant even if you do not have the exact background or do not meet all requirements in the job description. Recruiters and hiring managers may see potential in you or have another position that would be a better fit. Can't win if you don't try.
How has Easy Dynamics challenged you to grow?
Being 100% remote has been a huge adjustment. Since being at East Dynamics I have been given the autonomy to work at my own pace. Learning how to juggle multiple priorities at once while still making progress has been a great learning experience.
What piece of advice would you have liked to hear when entering the workforce?
I spent a lot of time in sales early on and it was more of something I was good at rather than a passion. I'd tell myself to stay focused on what makes you happy and find your passion. For me, it is being in the tech industry and working closely with people.
Share a fun fact about yourself.
I'm a huge anime fan. I've been watching anime since I was a child and still to this day, 15+ plus years later. A typical Friday night for me involves catching up on episodes I missed earlier on in the week.