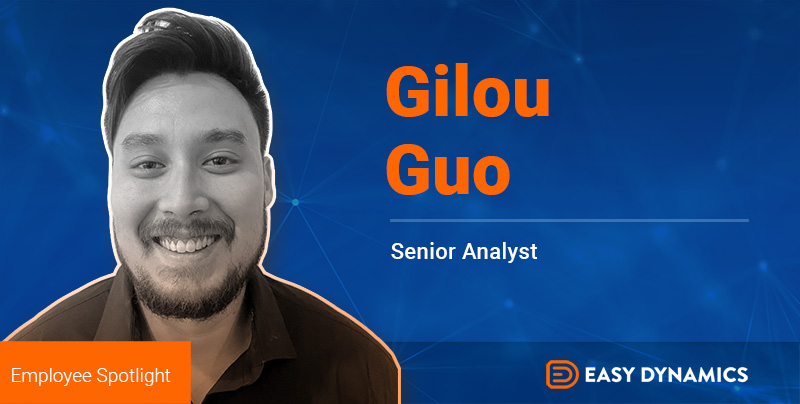 Tell us a little bit about your path to cybersecurity. How and why did you get into cybersecurity?
When I was considering my path after college, I was aware that the future will only continue to become more digital, and that cybersecurity will increasingly become an essential part of all industries. I worked at CGI Federal for two years right out of college and loved the work I was doing but decided to switch over to Easy Dynamics for better work culture and opportunities.
Out of the things that you did to prepare for this job, what prepared you the most for success?
My current role is on a strategy work stream and involves a lot of long-term planning. We use PowerPoint every single day and knowledge of power usage of PowerPoint really helps to illustrate ideas to a client or make decks as efficiently as possible.
How has Easy Dynamics challenged you to grow?
The certification and training budget is excellent and incentivizes constant growth. At Easy Dynamics, you are encouraged to use your training budget for the training you want. I think this is rare, considering lots of other companies make you jump through hoops with expense reports after training is completed or pigeonhole you to one certification that they think you should have. I also love that the leadership at Easy Dynamics promotes individual growth with the availability of mentorship programs and encouragement to apply for professional development programs.
What do you enjoy most about your job in cybersecurity?
The constantly evolving nature of cybersecurity is great since there are always new topics and areas to explore. I love that this industry doesn't feel stagnant.
What skills and qualities should entry-level cybersecurity professionals possess that will make them effective on the job?
Presentation and soft skills help tremendously in a role where you are dealing with clients. Power usage of PowerPoint and Excel also vastly benefit entry-level positions.
What are some certifications or courses that helped you land the job/ on the job?
I have received the AWS Certified Cloud Practitioner and Certified Scrum Master this past year. I plan to acquire the PMP next year and apply for the Associate's Program of ACT-IAC.
What advice would you give to recent graduates that you wish you had known?
Whatever job, career, or industry you land in, it is important to find a work culture of people you enjoy being around and one that challenges you to be your best self. Having a good boss (I know it's a very relative definition) is also super important right out of college so that you can grab the good habits of effective leadership.
Share a fun fact about yourself.
I am fluent in French, semi-fluent in Chinese (one of my majors in college), and I took Latin in high school.