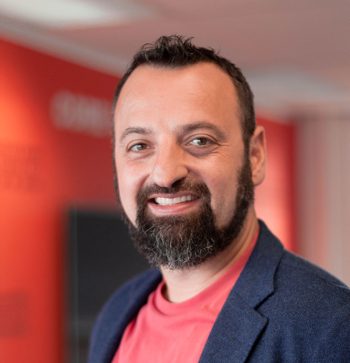 MCLEAN, VA, (August 29, 2023) — Easy Dynamics is excited to formally announce Pirooz Javan's transition to Chief Technology Officer (CTO). Pirooz's shift into this pivotal role marks a significant step forward in the company's pursuit of technological innovation and delivering exceptional value to its clients. Pirooz's function serves as a cornerstone of Easy Dynamics' strategic direction in this new capacity.
Formerly the Chief Operating Officer (COO) of Easy Dynamics, Pirooz has been a driving force behind the company's growth and success. As CTO, he will now focus his exceptional leadership and extensive technical expertise on shaping the company's technological direction and strategy, propelling Easy Dynamics into an era of unparalleled innovation.
Poupak Afshar, Chief Executive Officer of Easy Dynamics, underscored the significance of Pirooz's transition, stating, "Pirooz's evolution into the role of Chief Technology Officer (CTO) signifies Easy Dynamics' sharpened commitment to meeting the dynamic demands of our customers in the ever-evolving landscape of cybersecurity. The challenges we face are intricate and multifaceted, requiring our entire team's collective brilliance and unwavering dedication."
Pirooz will lead a dynamic team of visionary leaders in his new role while retaining oversight of the strategic vision for Easy Dynamics' technological endeavors. His remarkable insights and forward-thinking approach will fortify the company's mission of designing, building, and securing the systems that protect our people, places, and way of life.
Reflecting on his journey, Pirooz expressed, "I've served as COO for nearly 13 years while focusing on technology innovation part- time. The transition to CTO allows me to align my passion for innovation with my responsibilities at Easy Dynamics. We are fortunate to have great leaders that enable our team to make such a shift. I look forward to guiding our team toward achieving even greater milestones. Together, we will continue to redefine possibilities in the cybersecurity landscape."
Pirooz's formal shift to CTO is pivotal in Easy Dynamics' growth journey. With his expertise at the helm of technological advancement, cybersecurity policy, and compliance, Easy Dynamics is poised to strengthen its position as a leading force in delivering transformative cybersecurity solutions.
About Easy Dynamics Corporation
Easy Dynamics Corporation is a leading technology services provider with a core focus in Cybersecurity, Cloud Computing, and Information Sharing. We are builders, problem solvers, and trusted advisors who bring well-architected solutions and management consulting to our clients to align them with the best practices their missions demand. As industry leaders, we are committed to delivering unparalleled quality and service in all aspects of our organization and providing our customers with outstanding technical excellence and the business acumen to advise them on both tactical and strategic initiatives.