Easy Dynamics is helping organizations perform better by delivering human-centered solutions. We face our challenges by applying a mind-frame that begins by understanding the needs, concerns, behaviors, challenges, and motivations of our clients to effectively design and implement solutions that best suit their needs. Our human-centered process is seamlessly integrated into our company's practices and culture and grouped into three phases: Research, Design, and Build.
Before diving into developing a solution, we begin by understanding the project, business goals, and users. In this phase, our research uncovers insights that can lead directly to innovative opportunities, features, and improvements for product and service experiences.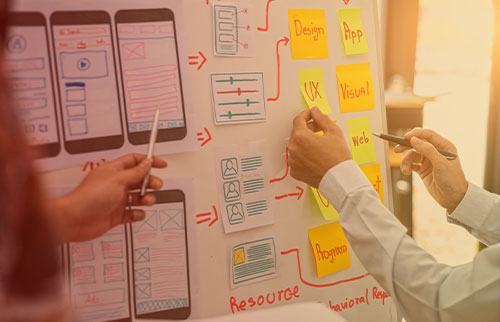 We use data collected in the Research phase to light the way forward and translate insights about the reality of today into a set of opportunities for the future. Our teams shift into a generative mindset to brainstorm design solutions that are desirable, feasible, and viable technologically, financially, and organizationally.
In the Build phase, our ideas come to life, and they create lasting connections that drive business results. The quality and success of the solutions we build are measured by how much value, satisfaction, and delight they bring to involved stakeholders.