Identity Credential & Access Management
If you're an IT decision-maker, you know that Identity, Credential, and Access Management (ICAM) plays a central role in protecting sensitive information within your organization and throughout the cloud.
To effectively manage risk, organizations must carefully evaluate information assets and control access against emerging Cybersecurity threats. Easy Dynamics can help you find the answers, just as we have for a growing list of US Federal agencies, including the Department of Defense – as well as our customers in the private marketplace.
We have substantial expertise in cybersecurity and cryptography, ICAM and privacy, cloud and systems engineering, accreditation, and integration and development. Our services help organizations evaluate their IT and business security posture, enabling systems design or modernization to ensure confidence in their access and cybersecurity controls. Our clients benefit from our deep knowledge of industry-related standards, policies, and regulations – including NIST special publications 800-63 and 800-53 – and more.
We understand that organizations have different requirements, risk tolerance, and constraints, which is why we never offer a one-size-fits- all solution for unique problems. We apply our deep technical and policy expertise, critical problem-solving, trusted advisor mindset, and high- level business consulting – all while working alongside you to provide the strategic guidance and comprehensive solutions your enterprise needs.
SOLVE YOUR COMMON ICAM CHALLENGES
Deliver services securely and protect valuable assets from unauthorized access
Understand which standards and technologies will meet your current and future needs
Safely integrate new and emerging technologies into your legacy infrastructure
Share sensitive information without risking data exposure or compromising trust
Balance operational needs with security, usability, fiduciary & labor constraints and policy/ regulation requirements
Accelerators bring some of our most common and difficult client challenges into focus by creating solutions that enable project teams to quickly make critical decisions and focus on best practice implementation.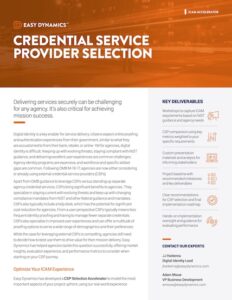 Credential Service Provider (CSP) Selection
By drawing upon our extensive knowledge of NIST standards – along with market insights, evaluation experience, and performance know-how – Easy Dynamics helps agencies confidently select and go live with CSPs.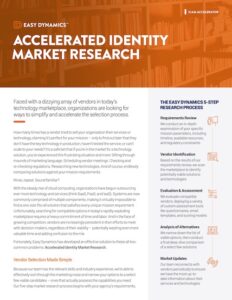 Accelerated Identity Market Research
Easy Dynamics simplifies the process of identifying viable vendors and technologies by rapidly assessing NIST compliance and filtering out the marketing noise to reveal truly compatible solutions.